GPS baserade Telematik Produkter
---
GPS logiks AB produktfamilj av GPS och telematik produkter tillhör det mest innovativa och kompletta sortimentet i Sverige för GPS spårning av fordon , gods och människor. Våra produkter är resultatet av 15 års forskning och utveckling inom elektronik och data. Våra produkterna är utvecklade för de olika områden som är aktuellt inom GPS spårnings området av fordon, gods och människor. MEd våra produkter kan du enkelt optimera din verksamhet och samtidigt erbjuda skydd för de anställda. Med oss har du alltid svar på frågor som innehåller ord som . – Vart, -Vem, -När, -Hur!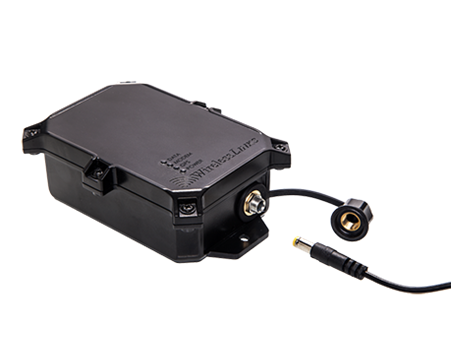 Piccolo Hybrid +Dual Mode GPS unit for Trailer Tracking

---
The industry's most advanced & most versatile dual mode GPS unit for Trailer Tracking, Boat Tracking, and Machinery Tracking.
Packaged in a robust IP67 waterproof enclosure with a large 7800 mA rechargeable lithium back up battery that enables the unit to send up to 5000 GPS locations on a single charge.
The Piccolo Hybrid+ will automatically switch from regular vehicle tracking mode to asset tracking mode when the external power is disconnected.
When powered by external power, the Piccolo Hybrid+ operates in real-time vehicle tracking mode sending GPS in high frequency for example every 30 seconds.
Once power is disconnected, the Piccolo Hybrid+ switches to Asset Tracking (AT) mode sending data 1-2 times a day when parked ( user definable ),when movement/vibration is detected, the Piccolo Hybrid+ will automatically wake up send an alarm and for as long as the vibration continues will switch to report data at a more frequent interval (user-definable ) for example every 30 minutes.
When movement/vibrations are detected, the device can be configured to stay awake for the duration of movement and report in real-time.
Funktioner
Piccolo Hybrid PLUS batteridriven GPS sändare för övervakning av gods och tillgångar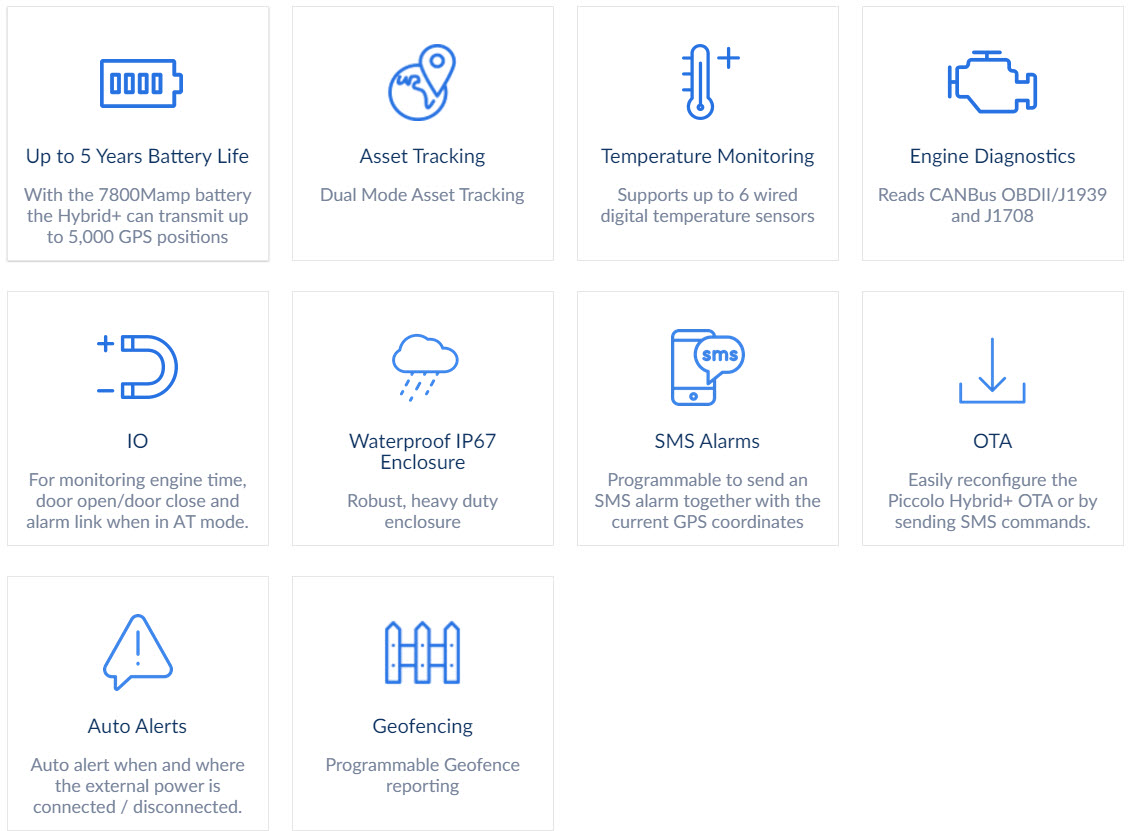 TECHNICAL SPECIFICATIONS

Network availability – GSM/GPRS or Edge/HSPA+(3G)
Frequency Bands – Quad-Band (European 900/1800/2100, American 850/1900/2100)
Enclosure ABSPC water proof IP67 enclosure, rated UL94V-0
GPS – MTK 66 Channels

DIMENSIONSER

Dimensions: 4.9" x 3.3" x 1.6" (125mm x 87mm x 41mm)
Weight: 3.7oz (105g) without the batteries

ENVIRONMENTAL SPECS

Operating Temperature: -22° to 176°F (-30° to 80°C).
Storage Temperature: -40° to 221°F (-40° to 105°C)
.Humidity: 0 to 99% 110F(40C), non-condensing Shock/Vibration/Mechanical: meets or exceeds EIA standard RS-316B
3G (operating), 20G (non-operating) XYZ 3 directions. Meets SAE J1455.

ELECTRICAL SPECS

standby mode: 40ma at 3V
sleep mode: 45uA at 3V
transmit mode: 1.8A pulse at 3V

POWER SOURCE OPTIONS

Operated by Rechargeable battery – one 4.2 VDC Lithium rechargeable battery pack with a capacity of 7800mA. When fully charged has the capacity of transmitting around 5000 GPS position. The unit has an internal fast charger. The batteries are charged via an external of the shelf standard 6-24VDC regulated power supply wall powered (110-220 AC) that plugs into the unit via a waterproof connector. Charge time is around 4-5 hours.
Externally powered- the Hybrid+ will run in continuous mode acting as a real-time tracker for as long as external power is available. The internal battery will recharge for as long as external power is available.

INSTALLATION

Magnets – For easy installation on metal surfaces
Two sided 3M Industrial tape- for a strong, permanent attachment
Mount the Piccolo Hybrid+ to the asset with screws