GPS baserade Telematik Produkter
---
GPS logiks AB produktfamilj av GPS och telematik produkter tillhör det mest innovativa och kompletta sortimentet i Sverige för GPS spårning av fordon , gods och människor. Våra produkter är resultatet av 15 års forskning och utveckling inom elektronik och data. Våra produkterna är utvecklade för de olika områden som är aktuellt inom GPS spårnings området av fordon, gods och människor. MEd våra produkter kan du enkelt optimera din verksamhet och samtidigt erbjuda skydd för de anställda. Med oss har du alltid svar på frågor som innehåller ord som . – Vart, -Vem, -När, -Hur!
Piccolo PLUS GPS Tracker
The most innovative, most complete GPS unit for Fleet Management

---
Fleet Management, GPS tracking made simple with the Piccolo PLUS.
Sending GPS location every XX seconds/minutes or every YY mi/km or any combination between time and distance based on speed.
Event logs such as; engine on/off, vibration alarm, door open/close are sent with a time stamp of the event and can be configured remotely to be sent with or without the exact GPS location taken at the time of the event.
Accurate driven distance.
Security alarm on tilt and/or vibration.
Tow, accident detection.
Theft protection – OTA starter killer.
Function rich yet flexible application with simple user interface configurable locally via USB or over the air (OTA) with a user-friendly software interface.
Built in Geo-fence programmable OTA.
Panic button.
Easily portable with a cigarette plug.
Battery level transmitted with every GPS data.
Stores and forwards up to 5000 events and sends them automatically when unit is back in cellular coverage.
Funktioner
STX Fleetmanagement med avancerade extra funktioner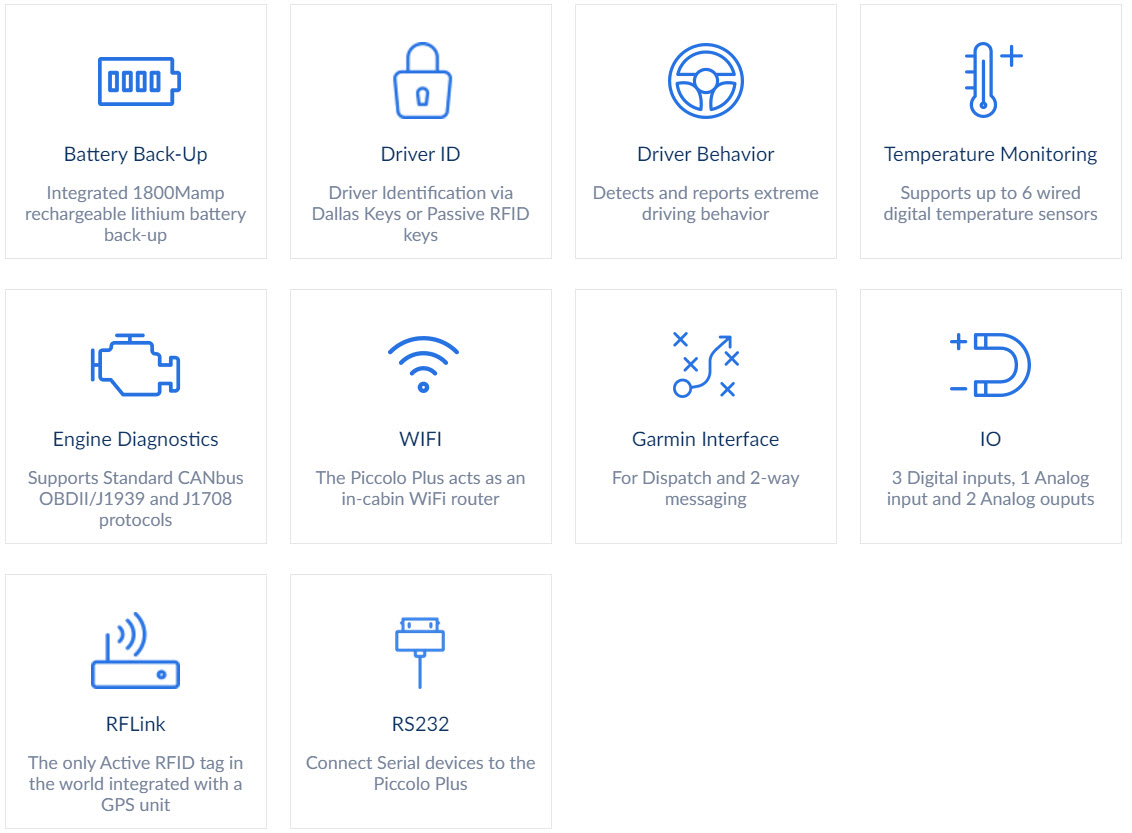 TECHNICAL SPECIFICATIONS

GSM/GPRS or EDGE/HSPA+ (3G).
Frequency bands – Quad-Band 850/900/1800/1900/2100MHZ.
Enclosure – Flame retardant ABS/PC.
GPS Technology – SIRF Star IV 48 receiving channels.

DIMENSIONSER

Dimensions – 3.36" x 2" x 1" LWD (85mm x 52mm x 25.4mm).
Additional 0.4" (10mm) on each side for mounting brackets.
Weight 3.17oz (94g) without the cable.

ENVIRONMENTAL SPECS

Operating Temperature: -22° to 176°F (-30° to 80°C).
Storage Temperature: -40° to 221°F (-40° to 105°C)
.Humidity: 0 to 99% 110F(40C), non-condensing Shock/Vibration/Mechanical: meets or exceeds EIA standard RS-316B
3G (operating), 20G (non-operating) XYZ 3 directions. Meets SAE J1455.

ELECTRICAL SPECS

Power source: 6DC -32VDC tethered to vehicle battery or portable with cigarette plug connector.
ESD 4kV contact, 15kV air.
When external power is disconnected auto switch to back up 1800 mA 3.7 VDC lithium rechargeable battery.
Protection internal resettable 1Amp fuse.

CURRENT CONSUMPTION

Transmit mode: 200mA at 12VDC.
Running mode: 70mA at 12VDC.
Standby (Hibernation) mode:20mA at 12VDC (when waiting for external event with GPS on).
Sleep mode: 5mA – (switches to sleep mode automatically when engine is off and/or when external power is disconnected).


BASE FEATURES

Digital Inputs – three contact events, two ground sense and one 5VDC – 32VDC positive sense.
Analog Inputs – one 0-5VDC.
Digital Outputs – two open collector 500mA.
Internal analog temperature sensor.


Installation

In cabin installation (usually under plastic dashboard).
Plug & Play installation with OBDII/J1939/J1708 connector prew