LoRa® Geolocation: Unlocking New Value for IoT Solutions
Use it to Locate, Navigate, Manage and Track
LoRa Geolocation is a GPS-free solution for low power wide area networks. As a major enhancement to the LoRa wireless RF platform, Semtech's LoRa geolocation solution will enable a wide range of applications which require the determination of a location as part of the overall solution.
This new functionality is supported by existing LoRa end nodes, eliminating additional cost and requiring no additional processing power, while maintaining optimal security for data and location.
LoRaWAN™ sensors can now support tracking applications by using Differential Time of Arrival techniques to determine approximate location to the nearest city block.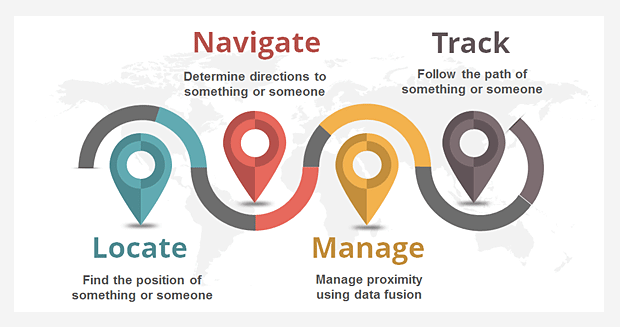 Get the Lowest Power, Lowest Cost and Longest Life
LoRa Geolocation allows companies to unlock geodata with the lowest power, at the lowest cost and with the lowest environmental impact.
Lowest Power
No processing of location in the sensor
No "time on air" required to transmit the location data
Geolocation possible with the smallest possible LoRaWAN packet
Lowest Cost
No GNSS or other hardware in the sensor
Smaller battery as no sensor power is used in getting location
Smallest size, including electronics, battery, enclosure
Lowest Environmental Impact
Sensor hardware is minimized (including electronics, battery, case size, etc.)
Many sensors will be fitted with a lifetime battery
What Does LoRa Geolocation Enable?
Guppy LoRaWAN Geo-Location Tag
COMPACT LOW-COST BATTERY-POWERED ASSET LOCATION USING LoRaWAN
The Guppy is a compact, rugged "tag" device that has been designed for locating containers, trailers, skip bins, and other assets using the LoRaWAN geo-location servces. The Guppy can also alert on movement and after-hours activity.
The IP-67 rated housing is rugged and UV stable, so the device can be mounted on assets that are exposed to rain, dust and marine conditions.
The Guppy uses LoRaWan technology to give you coverage of your assets at a low data cost. It is available in 868MHz and 915MHz versions to cater for the various LoRaWAN regions around the world.
Unsure what LoRaWan is? Click here for info on LoraWan.
The option of using extended temperature range batteries allows the Guppy to be used in extreme climates and temperatures.
IP67 Rugged weather-proof housing
Fully powered by 2 x AAA consumer batteries
Up to 5 years location on LoRaWAN low cost network
Small, Compact and easy to install and conceal
Configure by USB cable
By the end of 2020, there will be more than 15 Billion connected devices in IoT. Of those, approximately one-third will be critically dependent on geodata, and 60% will potentially include geodata in the application, according to Machina Research.
GPSlogiks LoRa geolocation solution is positioned to uniquely meet this need by offering extremely power efficient, GPS-free location capability for many markets, including automotive, logistics, consumer, insurance, agriculture, construction and others.